Enemigo
Monstruo. Servidor. Élite.
Fight: 4. Health: 5. Evade: 3.
Damage: 2. Horror: 2.
Cazador. Represalia.
No puede ser dañado durante los actos 1 y 2.
Obligado - Al comienzo de la fase de Enemigos: Los investigadores deben preparar al Juramentado poseído o bien colocar 1 ficha de Perdición sobre él.
Objetivo - Si el Juramentado poseído es derrotado: (→R3)
Victory 2.
Guillaume Ducos
Ecos del pasado #140. Echoes of the Past #21.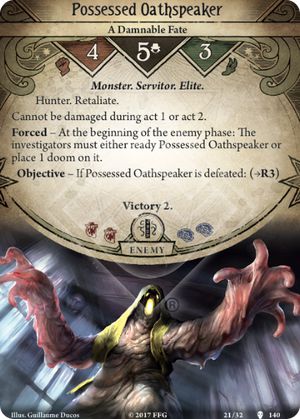 No review yet for this card.