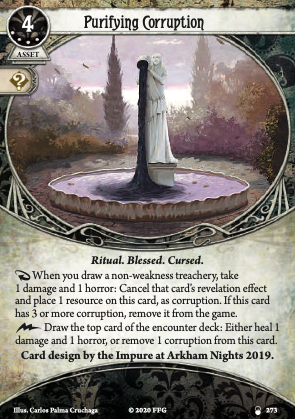 So first off I don't think this card is very good. 4 cost 4 xp is extremely high and most people would rather not take 1 and 1.
However there are two different decks which may be interested?
Tommy with Spiritual Resolve might be interested in three instances of 1 and 1. Same with anyone who has Peter Sylvestre and Jessica Hyde out -- that turns this card effectively into "skip the next three encounter cards you draw", which is very good.
I personally can't see why you'd ever want to activate the fast ability. Maybe there's something I'm missing here. I guess Tommy or Calvin can use this combo to just take 1 and 1 whenever they want, since nothing exhausts. Not exactly a mind blowing combo but it's something?
I was just thinking about this card recently, so I'm glad to see your review asking some questions about it. :-) I think I'm seeing three questions in your review: (1) Is taking 1-and-1 worth it to cancel a treachery for most investigators? (2) Why would you want to use the fast action? (3) Is this card worth 4 resources and 4 XP? I haven't played with it yet, and here are my answers in this moment… (1) Taking 1-and-1 is likely worth it for some of the worst treacheries, especially those that add doom or make you lose critical assets/cards. Many investigators have allies they are happy to sacrifice to cancel treacheries. (2) The fast action lets you use this card like William T. Maleson if you want to. You can cancel a bad treachery for 1-and-1, then choose to draw a new one to heal 1-and-1. The net result is you traded a known bad treachery for an unknown encounter card that may be easier for you to handle. (3) This is the hard question for me, especially not having played with it myself. —
SocialPsientist · 90