Investigador
Veteran.
Voluntad: 3. Intelecto: 2. Combate: 4. Agilidad: 1.
Salud: 8. Cordura: 4.
After an enemy attacks you, even if that attack was canceled: Discover 1 clue at your location. (Limit once per round.)
effect: +1. Heal 1 damage and 1 horror.
Ilich Henriquez
El Círculo Roto #46. Desaparición en la finca del Crepúsculo #4.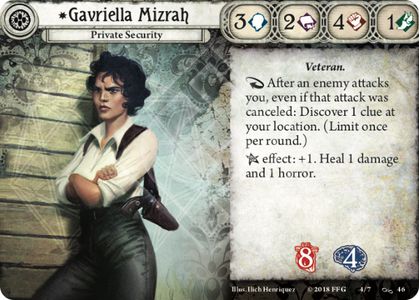 Gavriella Mizrah - Reverso
Investigador
Setup: You begin play in the Victorian Halls. Place 1 damage on The Spectral Watcher. Search the gathered cards for 1 copy of Fate of All Fools and put it into play in your threat area. You begin with 1 resource instead of 5.
Starting Play Area: .45 Automatic (Core 16) with 2 ammo tokens remaining, Physical Training (Core 17).
Opening Hand: First Aid (Core 19), Guard Dog (Core 21), Evidence! (Core 22), Dodge (Core 23), Extra Ammunition (level 1) (Core 26), 2 copies of Delay the Inevitable (TCU 21).
A former member of the Haganah, Gavriella Mizrah now works private security for wealthy homeowners. Josef Meiger - a man who takes confidentiality quite seriously - has retained Gavriella to make sure there are no problems during tonight's event. But even she is not prepared for what is to come.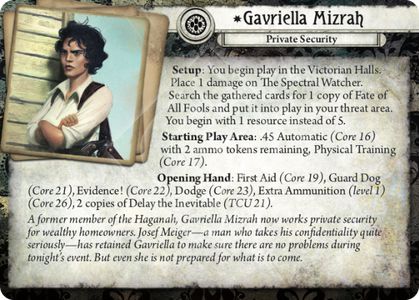 No review yet for this card.