Derived from
None. Self-made deck here.
Testless Clue Machine - Parallel Roland Banks


---
Overview
This deck is built around testless clue gathering, paired with deck-drawing and a respectable ability for combat. The core engine for this deck comes built-in with Parallel Roland's Directives, so there's very little setup required.

With access to the 0-3 Insight cards, Roland has some of the best testless clue options in the game. The idea is to use Directive: Red Tape to play one one of these cards fast once per turn, then if there's an enemy at your location you draw a card due to Directive: Seek the Truth. With Alice Luxley, you can also deal one damage to that enemy (like a never-ending Beat Cop). This all takes place in the window before your first action, giving very nice economy (1 card drawn, 1 damage dealt, 1-2 clues found, at the cost of 0 or 1 resources to play the Insight card courtesy of The Fool • 0).

For combat and as Parallel Roland can only run 0-3 cards, I went for for Timeworn Brand as my main weapon with Enchanted Blade as a back-up. Timeworn Brand can provide up to 9 damage with Enchant Weapon and its one per game big hit (up to 10 damage with Alice), which is good enough for boss-killing. Grete Wagner is worth mentioning here, boosting your effective and allowing for more testless clues when you kill an enemy.

To expand a little on the Directives, the downsides of these aren't too bad. Directive: Leave No Doubt gives +3 sanity and caps your moves to 2 per turn, but most of the time you won't be needing to move more than this anyway (campaign/scenario dependent). I've already covered the good bits of Directive: Red Tape and Directive: Seek the Truth, their respective bad bits are you can only play two cards per turn and not being able to commit cards until you've found a clue (in cases where there are clues at your location). You can of course ignore one of these once per game with Roland's ability should the need arise (i.e. if you need to haul ass and get across a big map, if you want to do more straight investigating and commit cards, or if it would be good to have one big turn towards the end of a scenario where you play 3 or 4 cards - see "Advanced Strategies" on the latter).

Final points to cover are that this deck begins with 8XP (Parallel Roland starts with 5, and then In the Thick of It gives 3 more), so you can run Stick to the Plan from game one. Run Winging It, Emergency Cache and Well-Maintained (also purchased with opening XP) on Stick to the Plan initially, changing to Enchant Weapon, Flare and Well-Maintained later (edit: these aren't eligible targets for Stick to the Plan - my bad! See "important edit" below for more details). Speaking of Flare (Roland can also run Tactic cards), this gives you a great discount on Grete or Alice early in the game. Flare's exile cost is also offset nicely with Delve Too Deep, and as it puts allies into play they don't contribute to the Red Tape limit. The Fool • 0 makes everything a little cheaper, very nice for playing Working a Hunch and Scene of the Crime at a discount given Timeworn Brand is expensive and there's few options for resource generation.

Important edit: on Reddit a user pointed out that you can't have Enchant Weapon or Well-Maintained on Stick to the Plan (I had it in my head these were supply cards, I'm not sure why!). The recommended change is to therefore run one Clean Them Out in the place of a Burning the Midnight Oil, and then have this, Flare and Emergency Cache on Stick to the Plan instead. If you want an extra copy of Enchant Weapon, Grete can be ran un-upgraded and a Scene of the Crime can be removed to create space. I will likely do a full update when more sets are out!
---
Advanced Strategies
Other than the combo of play an insight card fast when enemy is present → card draw → damage from
Alice Luxley
that's been mentioned (using
Directive: Red Tape
and
Directive: Seek the Truth
), a couple of other strategies worth mentioning are:
Fast delving - Being able to play Delve Too Deep fast with Directive: Red Tape is huge. It's well-known that playing Delve Too Deep right before you're set to resign (or otherwise advance and finish a scenario) is a good strategy, so being able to play these cards fast makes it so much easier to find an opportunity without wasting a full action.

Clue blitz - So you're right at the end of a scenario, and the final location shows up with high shroud and 3 clues on it. If you've got a few testless clue cards saved up, now is the time to use them! The issue is Directive: Red Tape limits you to playing two cards per turn, however with Roland's ability you can flip this over mid-turn to get up to 4 testless cards played (play the first one fast, then flip, then play the remaining 3). While cards like Stirring Up Trouble add to the bag, if you're literally just getting clues off the final location before you advance this isn't an issue.
---
What didn't make the cut
Campaign starter and planned progression
As mentioned above, you're starting with 8XP so this is a 32XP deck. I tend to stick to 30XP as an appropriate campaign end point, but with Delve Too Deep it's not unreasonable to go a little higher. One copy each of Stick to the Plan, Well-Maintained and Stirring Up Trouble are the recommended first purchases with this 8XP (I've tried going Timeworn Brand as an opener, but the deck thinning and set-up you get from Stick to the Plan is really helpful). Starter deck is directly below (and link here):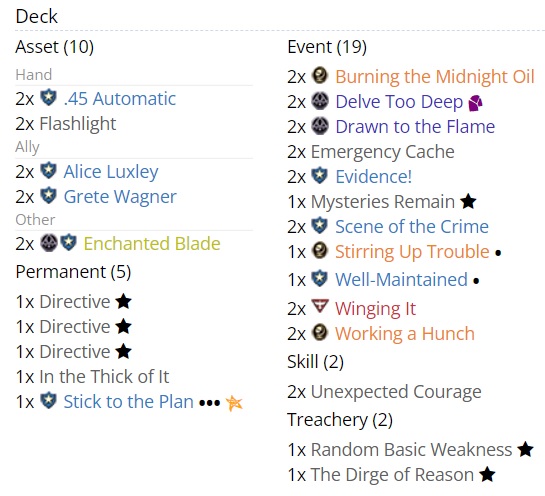 A recommended order of XP purchases/upgrades is as follows. You may want to re-order at what point you want to get Flare/Charisma depending on your soak needs (though if you keep re-buying Flare from the mid-campaign it will eat up XP):

---
Further upgrades and side deck
For the side deck, you can consider:
Winging It. I had planned for it to be included for end game, but decided to go with Forewarned to give a bit of protection from the encounter deck (which was a very sensible choice!). However if you're less concerned you can consider not running Forewarned and keeping Winging It.
For other XP purchases/upgrades, there's one big one to mention:
Burn After Reading. This can give very easy clues, and if you're buying it in the last scenario of a campaign then you don't having to worry about the exile cost. The very obvious card to exchange this for the end game is Delve Too Deep. I used this on the final scenario of Path to Carcosa to get 4 clues off the initial location (also using Drawn to the Flame) to advance the Act turn 1 - that kind of utility is too big to pass up!
---
Final Thoughts
I've not seen much talk about using testless clue cards with Red Tape to activate Seek the Truth - for me this is a fantastic engine and far better than other strategies (e.g. those focused on Directive: Due Diligence). I really think this deck is second-to-none in terms of testless clue finding, as a double up of Drawn to the Flame and Stirring Up Trouble can net you 4 clues without touching investigate actions. The icing on the cake is then being good at combat, as the deck is largely built on level 0 Insight cards so you have plenty of experience to afford a halfway decent weapon. Give it a go, it's good fun!