Investigador
Hechicero.
Willpower: 5. Intellect: 2. Combat: 2. Agility: 3.
Health: 6. Sanity: 8.
Después de que se coloquen 1 o más puntos de horror sobre Agnes Baker: Inflige 1 punto de daño a un Enemigo que esté en tu Lugar. Límite de una vez por fase.
Efecto : +1 por cada punto de horror que haya sobre Agnes Baker.
"Recuerdo otra vida: una de hechicería y conquistas."
Magali Villeneuve
Caja Básica #4.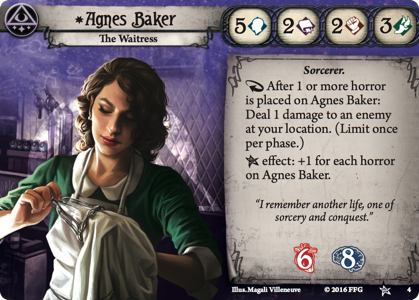 Investigador
Tamaño de mazo: 30.
Opciones de creación de mazos: Cartas Místico () de nivel 0-5, cartas Superviviente () de nivel 0-2, cartas neutrales de nivel 0-5.
Requisitos de creación de mazos (no cuentan para el tamaño del mazo): Herencia de Hiperbórea, Recuerdo oscuro, 1 Debilidad básica aleatoria.
Puede que, en esta vida, Agnes Baker sólo sea una sencilla camarera, pero en una vida anterior, en un tiempo y una época con la que el mundo moderno ni siquiera puede soñar, fue una poderosa bruja. Todo comenzó cuando encontró un extraño artefacto, una especia de llave, en una polvorienta colección de pertenencias familiares que había en el ático de su casa. Al tocarlo, los recuerdos volvieron como una marea, junto con una palabra: "Hiperbórea". Cuanto más profundizaba en las visiones y recuerdos de su vida pasada, más fuertes se volvían sus poderes… y más crecía su temor.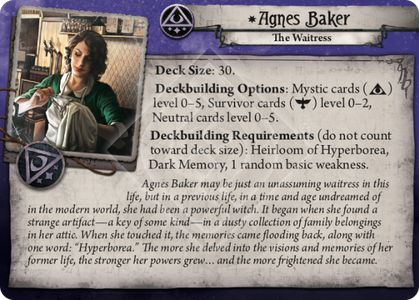 You cannot use Agnes' ability if you assign horror to an asset.
Last updated
Can I play with Agnes?
Give me the sense to wonder
To wonder if she's free
Give me a sense of wonder
If they've picked her before me
Give me the strength to hold my hand out
And pick that youthful face
Don't need xp to unlock this deck
Gonna play through it all
Break me into that bad place
[Chorus]
Can I play with Agnes?
She'd look so cool with a crystal ball
Can I play with Agnes?
Her evasion's rather small
Can I play with Agnes?
The players looked at me and laughed at me (ha ha) they said:
Can I play with Agnes?
Use blinding light, its fine, you`ll seeee
Woah, they said use blinding light you`ll see
I stared hard at the encounters
I said I'll Scry, I'll see whats below
We can prepare for this mischief
For two cards and the next
Oh then I fixed them with a freezing glance
You could see the fear in their eyes
I said you wanna know the truth son?
Well I'll show you the truth
Its an agility test needing five or higher
[Chorus]
Listen to me, said the players
[Chorus]
Can I play with Agnes?
Jesus, that is beautiful! —
lukas · 14
Can I hit the like button multiple times please? —
m3Ss1 · 1
Awesome Iron Maiden reference! —
Felagund · 429
Great. Now I gotta record a cover song and blast it everytime somebody pulls out an Agnes deck. —
H0tl1ne · 20
Thank you so much for this work of art! Up the Irons. —
humbas · 13